Textile & Fashion 2030 contributes to meeting the UN's Sustainable Development Goals
The Textile & Fashion 2030 platform will, among other things, contribute to meeting the goals of Agenda 2030 for the textile sector, as well as supporting the Swedish business sector in improving its competitiveness and being regarded as a pioneer in sustainability and circular economy in an international perspective.
The platform's prioritized goals
The UN's 17 global goals for sustainable development are fundamentally indivisible and include both environmental as well as social and economic aspects that are necessary for our society to function in a sustainable way.
Textile & Fashion 2030 will in particular contribute to fulfilling seven of the goals, as they, through connections to the other goals, include what the platform should cover in an initial phase.
The prioritized goals are; 6, 8, 9, 12, 13, 15 and 17.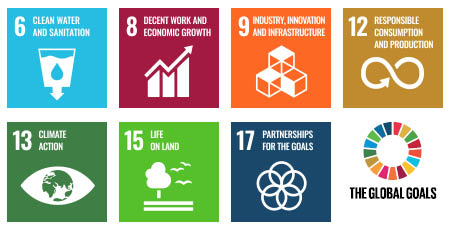 Read more about the prioritized goals by clicking on the links below.(External links to www.globalgoals.org)
6 Clean water and sanitation
8 Decent work and economic growth
9 Sustainable industry, innovations, and infrastructure
12 Responsible consumption and production
13 Climate action
15 Life on land
17 Implementation and global partnership