Great interest in Textile Challenge 3

A record number of participants came to the third Textile Challenge that was held on 13 November at the the Swedish History Museum in Stockholm. More than 70 people in the textile and fashion industry had heeded the invitation that dealt with the theme of materials and chemistry, where researchers and companies spoke about challenges and opportunities on the subject. This time, a matchmaking event was also arranged for companies in order to strengthen the competitiveness of the European textile and fashion industry.
The day began with a research perspective as scientific background; Sandra Roos from RISE highlighted various environmental aspects that have the greatest climate impact in the value chain. Ellinor Niit, a researcher at the Swedish School of Textiles in Borås, then explained why the sector uses such large amounts of chemicals and how to reduce them. Among other things, she gave examples of a method she herself has developed to reduce chemicals when dyeing. From the companies, Felix Aejmelaeus-Lindström, Chemicals specialist from Fjällräven, spoke of how they have handled chemical substitution and what the company has succeeded in doing. Lisa Rosengren, Raw Materials Manager at Fristads, presented the world's first Environmental Product Declaration (EPD) collection for work wear, where Fristads has totally rethought its chain: from design, material selection, manufacturing process and climate smart garment packaging.
"I think it was a very good combination of speakers on the theme and the day was very appreciated by the participants," concludes Lisa Schwarz Bour from RISE where she works as an Area Manager for Textile Recycling. At Textile & Fashion 2030, she is the knowledge leader for the field of Materials, Chemistry & Recycling and was moderator of the event.
Lisa Schwarz Bour, moderator

Lisa Rosengren, Fristads
No straight path
One purpose of the event was to inspire and to get participating companies to think about how their products and processes can be optimised with respect to materials and chemistry.

­"There are, of course, a lot of difficulties in this work and the way forward may not always be straight, but it is possible to do a lot. Today's speakers really showed that and we are pleased that they came here and shared their experiences," says Lisa Schwarz Bour, who continues, "If I, as a manufacturing company, am going to produce a jacket, for example, what am I going to focus on? Of course, that the product should have a long life with the consumer, but the choices in the design phase also control other parts of the life cycle, such as ease of repair and recycling. These are examples of issues we want to highlight through our Textile Challenges, which have different themes for each occasion," says Lisa Schwarz Bour.
Textile & Fashion 2030 supports companies
A main goal of the Textile & Fashion 2030 platform is to support businesses and address aspects related to the entire product life cycle. In the workshops taking place at each Textile Challenge, companies are helped to identify their challenges. Lena-Marie Jensen is coordinator for the knowledge areas within Textile & Fashion 2030. She says that there have been three project proposals so far and that these are now being assessed by a working committee. A compilation from the results of Textile Challenge 2 and 3 is ongoing.
"The goal is for each workshop to result in a number of concrete sub-projects where together one can go further with what companies are interested in and create opportunities to move forward in sustainability work. We see every Textile Challenge event as the beginning of a journey and I am really happy with all the events so far," she says.
The participating companies were also able to hear more about inspiring examples of sustainable solutions in Textile & Fashion's mobile exhibition Exposé, which for this event was set up in the meeting room at the Swedish History Museum.
Popular matchmaking event
In connection with Textile Challenge 3, a matchmaking event was organised within the framework of Tex4IM – which is a European textile cluster for industrial modernisation. The matchmatching event took place on 13 and 14 November and offered spaces for Swedish and international companies to meet and make contacts and discuss future business opportunities and development collaborations.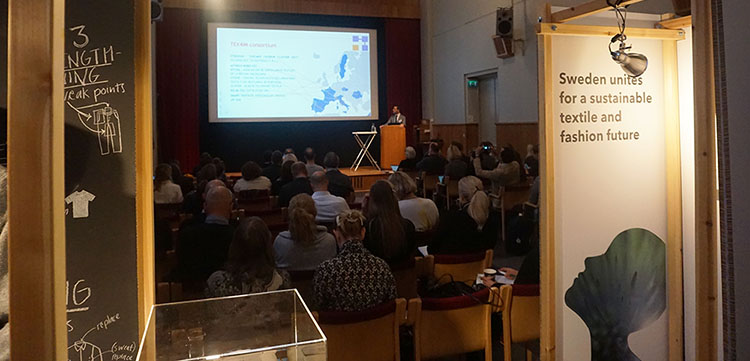 "It was an intense day with many meetings. The concept is effective and a great way to meet business partners. The meetings often lead to concrete project ideas, which can result in future collaborations between companies, textile clusters, R&D partners and the like," says Lena-Marie Jensen, who was responsible for the matchmaking event.
Among the areas discussed, sustainability was in focus, but circular economy and smart textiles were other common topics during the meetings
"The companies were very pleased with the opportunities that arose during the meetings. The Tex4IM team will support the main collaborations from the event and follow up with the companies to put into action the collaborative ideas" says project manager Enrico Venturini at Tex4IM.
Workshop

Exposé

Experience the seminar after the fact
Find filmed material from and speaker presentations from the seminar here!

Facts about the activities
Tex4IM& Matchmaking
The matchmaking event was organised by the Tex4IM project with the support of the COSME programme from the European Commission and in collaboration with Textile Fashion 2030, Smart Textiles, European Enterprice Network, RISE and TEKO. Tex4IM aims to build strategic partnerships to modernise the European textile and fashion industry and strengthen competitiveness. Eight regional textile clusters from France, Italy, Portugal, Romania, the Czech Republic Spain and Sweden are taking part in the project.
Before the matchmaking event takes place, companies have chosen who they want to meet and what they want to talk about (within predetermined areas). Each meeting lasts a maximum of 20 minutes; either companies meet with other companies (business to business) and/or companies meet with researchers or other organisations that support innovation. A total of 110 meetings were held in Stockholm, including 85 with international paricipants, with a total of 52 participants. including 85 with international paricipants .

The next matchmaking event will be held in Portugal (Porto) in April 2020.
Read more about Tex4IM
Textile Challenge
Is a series of activities arranged within the framework of Textile & Fashion 2030, which is the national platform for sustainable fashion and sustainable textiles in sweden, and aims to inspire and challenge the textile and fashion industry and identify the obstacles to achieving objectives of Agenda 2030.

A total of seven textile challenges are carried out during the period of 2019-2021 with different knowledge themes. Through seminars and workshops, the following themes are addressed: Product and Design, Brand and Transparency, Materials and Chemistry, Production, Resellers and Distribution, Use and Consumption, and Recycling.

The theme of Textile Challenge 4 is Production and it is scheduled to be held in Stockholm on 6 February 2020. Look out for more information and notifications at: https://textileandfashion2030.se/